Exhibitions & Live Art Commissions
1978 South Hill Park Arts Centre, Bracknell
1980 Leverkusen, West Germany
Printmakers Workshop, Edinburgh
1982 PMC Gallery, London
Centre Charles Peguy, London

Edinburgh Festival, Fringe First Award
1983 Percy Thrower Garden Centre, Shrewsbury
International Festival of Performance, South Hill Park

Community opera, Banbury, Oxfordshire

Octetto Ironico: Air Gallery, Wapping Studios, Brixton Art Gallery, London
1984 Baron Alban's Plumb Line, South Hill Park
London Musicians Collective

Brighton Festival

Tom Allen Centre, Stratford, East London
1986 Arts Centre, Swindon
Old Fire Station, Oxford

Hippodrome, Leicester Square, London

Serpentine Gallery, London
| | |
| --- | --- |
| Above: The Serpentine Highland Games, invitation card; photo: Richard Parsons | |
| | |
1987 Finborough Arms, London
Castle Museum, Nottingham

National Review of Live Art, Riverside Studios, London

The Leadmill, Sheffield
1987 Aspects, Portsmouth Art Space
1988 Contemporary Art Fair, Bath International Festival
Cambridge Darkroom with Kettles Yard, Cambridge

Museum of Modern Art, Oxford
| | |
| --- | --- |
| Above: ½ Montego for Slipstream for Ben Day, MOMA Oxford 1988 | |
| | |
Glasgow Garden Festival
---
The Guerilla Squad
National Review of Live Art at Riverside Studios, London
Alastair Snow was asked to programme the banquet event at the National Review of Live Art at Riverside Studios London in 1987. Silvia Ziranek planned the menu, Mona Hatoum was the guest speaker and The Guerilla Squad provided the cabaret with a riverside intervention by raft with pyrotechnics by Le Maitre Fireworks.
Baron Alban devised The Guerilla Squad in 1986 as a remarkable concept in concussed percussion, sparked by the tactics of confrontation and deterrent in an uncertain age of reason. It consisted of up to 25 percussionists and amplified ironing-boards played with timpani sticks, a highly charged domestic metaphor to promote home centred society under fire and under threat.
A disco version was presented at the Hippodrome Night Club in London with a sonic arrival on the Flying Phantom*, a fire tug on the Clyde at the Glasgow Garden Festival.
Following the riots in Korea, the performance took on more of a militaristic identity given by a locally recruited and rehearsed company of artists, dancers, musicians and enterprising members of the general public, many new to or unfamiliar with the confrontational aspects of live art.
* The Flying Phantom tug capsized claiming three crewman's lives on the river Clyde after running aground in December 2007.
| | |
| --- | --- |
| Above: Baron Alban with Guerillas, Coate Water, Swindon 1986 photo: Paul White | Above: The Thames at Hammersmith, Nocturne with Guerillas 1 watercolour: Paul Jackson |
| | |
| Above:The Guerilla Squad, Hippodrome, Leicester Square, London 1986 photo: Simon Sumner | Above: The Flying Phantom |
| | |
1996 Saltburn Artists Gallery
1997 Six Chapel Row Gallery, Bath
2001 Painting Open, Royal West of England Academy, Bristol
2006 Exhibition of paintings at Chapel Row Gallery, Bath
| | |
| --- | --- |
| Above: Apples and Pears mixed media; photo: Marc Thorneycroft, Photoworks | Above: Still life with lemons and grenades mixed media, photo: Marc Thorneycroft, Photoworks |
| | |
| Above: Plum mixed media, photo: Marc Thorneycroft, Photoworks | |
| | |
2007 Exhibition of photographs at Royal West of England Academy, Bristol
Royal West of England Academy Autumn Exhibition 2007
Alastair Snow visited Berlin in October 2005 with artists and architects as part of an international delegation arranged by MADE Birmingham. The two RWA exhibited photographs were part of a series of about fifty images taken during this visit which included a number of guided and invigilated tours of parliament buildings, museums, public realm development, the Netherlands Embassy and E-Werk – a refurbished industrial building in the former Russian sector, now used by media and creative industries for workspace, exhibitions and events.
Within the conversion of E-Werk, the architect has retained the original control room of the previous power station as a point of recollection of former use. It is the most evocative space to recall times past; almost Kubrick in intensity with a powerful sense of place and time. E-Werk is situated on Mauerstrass and Wilhelmstrasse near to several government buildings and close to the site of the former SS Headquarters and Hitler's bunker.The security fenced, green space overlooked from E-Werk retains a certain historic resonance.
| | |
| --- | --- |
| Above: E-Werk, Berlin 14.10.2005; redevelopment by Hoyer Schindele Architekten | Above: Mauerstrasse/Wilhelmstrasse, Berlin 14.10.2005 |
| | |
| Above:Netherlands Embassy, Berlin; Rem Koolhaus and Office for Metropolitan Architecture OMA | |
| | |
2008 Exhibition of photographs Through the Lens at Royal West of England Academy the first RWA exhibition to be devoted entirely to photography; contemporary work from invited photographers and open submission.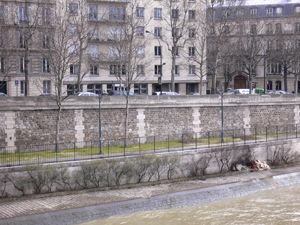 Above: Shelter, The Marais, Paris
December 2008 Exhibition and Secret Art Sale in aid of Shelter
In association with Levitt Bernstein, an architectural practice with forty years experience of affordable housing.